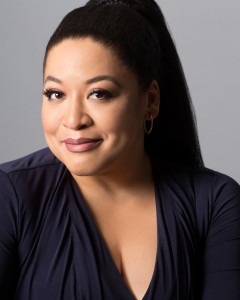 Michelle Bradley, a former Houston native is returning to us after having just completed a successful apprenticeship with the Metropolitan Opera's Lindemann Young Artist Development Program. While there, the soprano appeared in Mozart's Idomeneo under the baton of Maestro James Levine and was the high priestess in Verdi's Aida. During the opening of the Met's 2017-2018 season, Michelle gained much notoriety for her role as Clotilde in Sir David McVicar's new production of Norma.  She has recently appeared in Santiago de Chile as Donna Anna in Don Giovanni and on the concert stage as the soprano in Verdi's Requiem at Cincinnati Symphony Orchestra's May Festival. Future engagements for the 2018-2019 season include, Leonora in Verdi's La Forza del Destino at Oper Frankfurt, Verdi Requiem at Deutsche Oper Berlin, and A Child of Our Time with the Orchestre de Paris under the baton of Thomas Adès.   Michelle is the recipient of many prestigious awards. These include the 2016 Hildegard Behrens Foundation Award, 2017 recipient of the Leonie Rysanek Award from the George London Foundation, and first place prizes in the 2017 Gerda Lissner and Opera Index International Vocal Competitions. She is also a recipient of the Richard F. Gold Career Grant from the Shoshana Foundation, the Sullivan Foundation Award, and Lincoln Center's 2018 Emerging Artist Award.  Michelle received her Masters of Music in Vocal Performance from Bowling Green State University. She has participated in master classes with Stephanie Blythe, Anne Sofie von Otter, Marilyn Horne, Deborah Voigt, James Morris, and Renata Scotto.  Michelle is a student of Lois Alba.
Ken Noda is Musical Advisor to the Lindemann Young Artist Development Program at the Metropolitan Opera where he coaches young singers and collaborative pianists.  Born in New York City to Japanese parents in October 1962, he studied with Daniel Barenboim and performed as soloist with such orchestras as the Berlin, Vienna, New York, Israel, and Los Angeles Philharmonics; the London, Boston, Chicago, San Francisco, Montreal, Toronto, and National Symphonies; the Cleveland Orchestra, Orchestre de Paris, and Philharmonia Orchestra of London, under such conductors as Abbado, Barenboim, Chailly, Kubelik, Levine, Mehta, Ozawa, and Previn.  He has also collaborated as chamber musician with James Levine (at two pianos), Itzhak Perlman, Pinchas Zukerman, Nigel Kennedy, and the Emerson Quartet; and as accompanist to Kathleen Battle, Hildegard Behrens, Maria Ewing, Aprile Millo, Kurt Moll, James Morris, Jessye Norman,  Matthew Polenzani, Dawn Upshaw, and Deborah Voigt.  He is closely associated with the Marlboro Music Festival and taught at the Renata Scotto Opera Academy at the invitation of Miss Scotto.    Since 2009, he has been a regular guest coach and performer for "The Song Continues" at Carnegie Hall at the invitation of Marilyn Horne.    From 1991 to 2017, he was Musical Assistant at the Metropolitan Opera to former Music Director James Levine.    In July 2019, he will retire from his full-time position at the Met, continuing to guest coach for the Met/Lindemann program under the new title of Honorary Teacher.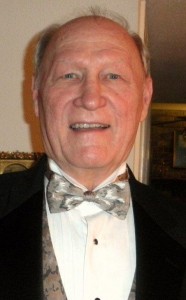 Carl Hand is a graduate of the University of North Texas and started his professional career by singing several seasons with the Dallas Opera in both solo roles and chorus. After moving to the Houston area, Carl sang for 22 seasons with the Houston Grand Opera Chorus. He has performed in several European countries including Scotland, Czech Republic, Hungary and Romania. Carl is currently serving as Bass Soloist at First Presbyterian Church of Houston where he sings the bass solos in the City of Houston's longest running annual sing along of "The Messiah". He has performed with the "Sons of Orpheus", an outstanding men's chorus. Carl has studied voice with many fine voice teachers and coaches including Arthur Peters, Gerald Tate, and currently studies with Lois Alba.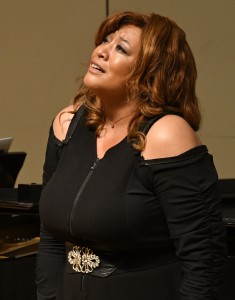 Michelle Bradley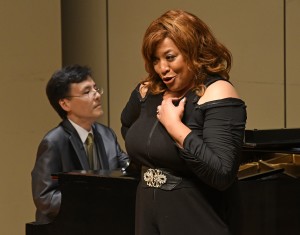 Maestro Ken Noda & Michelle Bradley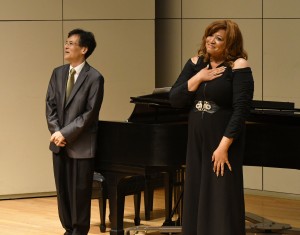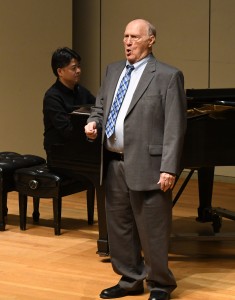 Maestro Teruhiko Toda with Carl Hand, Bass