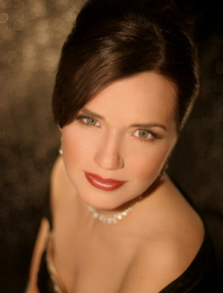 Kelly Kaduce started her career by winning the Metropolitan Opera National Council auditions in 1999.  She has since sung leading soprano roles throughout the United States and internationally.  She has garnered the most acclaim as Cio-Cio San, Mimi, Suor Angelica, Marguerite, Thais, Nedda and for the creation of Anna Karenina.
Ms. Kaduce is swiftly gaining national recognition for her "plangent, amber-toned soprano, glamour girl looks and artless, affecting dramatic style." (Opera News) Ms. Kaduce has garnered thunderous praise for her stage portrayals, most recently for her star-making turn in Lee Blakeley's production of Madame Butterfly at Santa Fe Opera. The Huffington Post called it  "a performance to treasure" and the Santa Fe New Mexican stated "Soprano Kelly Kaduce, as Cio-Cio-San (the "Madame Butterfly" of the title), stood at the head of the cast in every way. Her singing, never less than impressive, assumed mounting intensity as the evening unfurled. "
Starting the 2011-2012 season Kelly Kaduce will reprise three roles which she is making her own: Nedda in I Pagliacci with Arizona Opera, followed with a house debut at Opéra de Montreal in their company premiere of Rusalka and Madame Butterfly with Portland and Minnesota Opera. Kaduce adds a new role to her repertoire with Pat Nixon in Adam's Nixon in China with Eugene Opera.
In the 2010-2011 season Ms. Kaduce sang her acclaimed portrayal of Violetta in La Traviata  for the first time in the US with Tulsa Opera. The Tulsa World stated "And speaking of perfection, it was embodied in the performance of soprano Kelly Kaduce, making her Tulsa Opera debut as Violetta. People, you have got to hear this lady sing. Kaduce's voice is full and rich, unusually powerful but always maintaining a caramel-like sweetness – her high notes were ringingly clear, without so much as a hint of shrillness or effort. Even better, she can use all that fullness, all the power, all that sweetness in the most expressive ways."  She followed this success with performances of Mimi in La Boheme, a role that has become a calling card for Ms. Kaduce, with Michigan Opera Theater.  The New Year saw her as Rusalka for Opera Colorado in Eric Simonson's production.