Soprano
Recipient of the Midori Mochizuki Award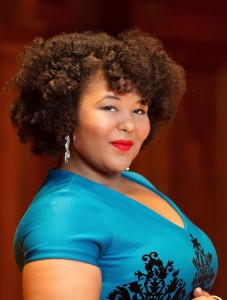 A native of Youngstown, Ohio, soprano Amber R. Monroe is recognized as "a name to remember" possessing "a magnificent instrument with powerful richness… and a bell-clear top" (icareifyoulisten.com). Monroe graduated from Oberlin Conservatory of Music, where she received a B.M. in Vocal Performance. Her work in Oberlin Opera Theater productions has ranged from the main stage at Hall Auditorium to contemporary operas in non-traditional venues. She has performed the roles of Lady Billows in Benjamin Britten's Albert Herring, Old Lady in Michael Torke's Strawberry Fields, and the title role in Nkeiru Okoye's Harriet Tubman: When I Crossed the Line to Freedom in collaboration with Cleveland Opera Theater. Monroe has performed and studied in summer programs both in the United States and Italy including the Italian Opera Study Abroad program in Pisa; the Chicago Summer Opera, covering the role of Helena in Britten's A Midsummer Night's Dream; and two summers at the Oberlin in Italy program in Arezzo, Italy—first as an Emerging Artist and the second performing the title role in Puccini's Suor Angelica. In summer 2015, Monroe was awarded the 1st Place at the Vocal Arts Competition for Emerging Artists, held in New York City. She also has been honored as the 2nd Place Winner at the 2017 Classical Singer Vocal Competition for Emerging Professionals in Chicago, and 3rd Place Winner at the 12th Annual Lois Alba Aria Competition in Houston. On the concert stage and in oratorio, Monroe has been a featured soloist in Schubert's Mass in G Major, Vivaldi's Gloria, as well as in a Lincoln Center performance of Roland Carter's Hold Fast to Dreams with the Tuskegee University Golden Voice Concert Choir. In spring 2016, Monroe performed as the soprano soloist in Stephen Hartke's Symphony No. 4 with the Oberlin Orchestra. As a winner of the Oberlin Senior Concerto Competition, Monroe was featured as the soloist in Ricky Ian Gordon's and flowers pick themselves with the Oberlin Chamber Orchestra. Monroe has participated in master classes with notable artists such as Lawrence Brownlee, Marilyn Horne, Eric Owens, Gianna Rolandi, George Shirley, John L. Demain, and Enza Ferrari. Monroe will be continuing her studies at the University of Cincinnati College-Conservatory of Music, where she anticipates graduating with a M.M. in voice.
Sunday, June 25, 2017
Amber sings Tu che di gel sei cinta from Puccini's TURANDOT and
Ah! Je ris de me voir from Puccini's FAUST.
She was accompanied by Doctor Janice Fehlauer. HD Video by Robert Land Productions.