Soprano
Recipient of the Theo Pinson, III Audience Award and
The Marianne Ehrlich Audience Choice Award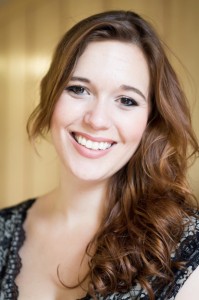 BRITTANY JONES, soprano, is a graduate student in vocal performance and librarian sciences. A native of Louisville, Kentucky, she holds bachelor's degrees in biology, music, and voice from Bellarmine University and The University of Kentucky. A singer of only a few years, she is highly accomplished in opera, recitals, and musical theatre. Her achievements include The Gail Robinson Musicianship Award, 1st Place Alltech Transfer Award, and the 1st place NATS Intermediate Award. Brittany's accomplishments also include the title role in Madama Butterfly, Suor Angelica, Susan B. Anthony in The Mother of Us All, Giulietta in Les contes d'Hoffmann, Donna Elvira in Don Giovanni, Beggar Woman in Sweeney Todd, and Factory Girl in Les Misérables. She has recently traveled to Germany singing Strauss art songs for critically acclaimed accompanists such as Julius Drake and Helmut Deutsch, as well as European Opera stars Falko Hönisch, Emilio Pons, Elena Gorshnova, and many others. She has toured as a soprano in The Schola Cantorum of Bellarmine University in Rome, Vatican City, Florence, Naples, and Amalfi. Brittany is currently a student of Dr. Stephen Austin and Lois Alba.
Sunday, June 25, 2017
Brittany sings Ach estamilas from Tchaikovsky's PIQUE DAME and
Donde lieta from Donde lieta from Puccini's La BOHÈME.
She was accompanied by Maestro Teruhiko Toda. HD Video by Robert Land Productions.