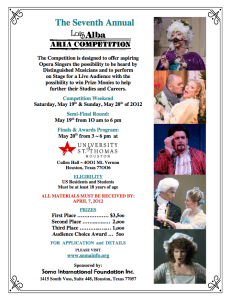 The Awards Program and Final Round on May 20 of 2012, once again offered our audience the highest level of up and coming young artists at their best!  Our judges had the very serious job to choose from participants from across the country and beyond.
We had 70 applicants residing in 19 of these United States and we heard  39 of them on Saturday, May 19.   It is always thrilling for us to hear such wonderful music and to witness our singers dedication to the art of opera.
We look forward to the next and eighth Lois Alba Aria Competition, already scheduled to take place on
May 18 and 19 of 2013
Meet our 2012 Winners!